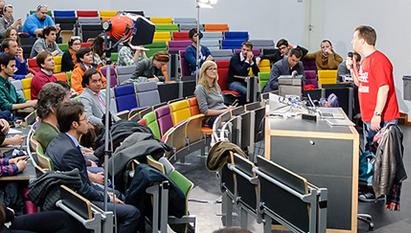 Here's an interesting innovation move, one to be applauded.
It's Startup Weekend Science and Research, in Wellington at Creative HQ from Friday July 3 to Sunday 5.
Interesting because its the first time a non-digital (as such) Startup Weekend event's been done in NZ (France has beaten us to the draw). Most startup weekends like this are around apps or web-based functions – something that requires developers and designers.
This 54-hour marathon though has tangible products, something physical you can touch as the start point. It is open to all research-based ideas (the criteria for this is at the end of the blog).
SWRsch is to be applauded because it is:
Delving into the unknown – the organisers aren't quite sure how many people will attend
Likely to lever off some of our country's other strengths, be they our biological, manufacturing or other service industry areas of expertise
(People still have to eat, move, experience, live and play in the real, physical world. Solving problems in these areas is just as important as in the online space)
It is also a good intiative because it potentially combines the ethos of startup weekends: speed to market, pace of (software) development, minimum viable product and the like; with what will often be a protectable intellectual property position from the research.
Finally, it could be quite exciting to see teams looking to develop deep technology on the Friday night, and frantically looking for someone such as a chemist or electrical engineer or food technologist, rather than desperately trying to find a coder/programmer.
The organisers are really wanting to attact PhD students – people with ideas, people who don't necessarily want an academic/researcher role in their next career phase – to be part of the weekend.
To state the obvious, getting them along, en mass as a way of acquiring a range of skills over and above what they've learned doing their doctorate, is going to be the trick.
Here's what the weekend organisers are looking for.
What is a research-based idea?
To be a good fit for #SWRsch your idea should meet (or come close to) the following criteria:
It will be based on a defined body of research e.g. a masters/doctorate project, market research, socio-economic research, data project, etc
It will require a degree of research and development to be a marketable product i.e. it is not already at the product stage (you may or may not have done a portion of this R&D already)
It will not have been widely commercialised yet i.e. you may have explored one market but think there is more potential to be realised yet
sticK is run by Peter Kerr. As a writer for hire, especially in the science and tech area, and in making the complicated more simple, I'm happy to yarn – if you've got a challenge you'd like a conversation about, it costs nothing.
You can contact him at: peter.kerr055@gmail.com
Bat phone: +64 21 0696 040
Landline: +64 4 473 0960
Twitter: @sticknz